Get a free quote online for a solar PV (Photo Voltaic) installation from RAI systems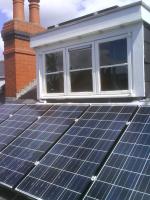 In order to get a rough estimate for an installation of PV panels, please fill in the following form. At this stage, this quote is not legally binding for either party and is purely indicative. In case of further interest, we'll need to make a full survey of your site.
We cover a geographical zone of about 30 miles from Holmfirth, which includes Huddersfield, Dewsbury, Barnsley, Rotherham, Sheffield, Bradford, Leeds, Doncaster and adjoining areas. If the site for installation is within about 20 miles of our base (near Holmfirth) in South Yorkshire, we offer a free initial site survey, energy audit and consultation before designing a system to meet your needs.
This program will compute the number of PV solar panels that best match your requirements and the average power you can expect from your system over the year. It will display the cost of the installation and also give you an idea of the time needed to recoup your investment as well as an estimate of the overall return on it. Presently, for each Kwh (Kilo Watt per hour) generated by the solar panels (consumed in the house or exported to the grid) you're entitled to receive £0.16 from the Clean Energy Cash Back Feed-in Tariff.
The energy generated from the solar array is used in the house first. If electrical appliances are switched on and your solar production exceeds the demand of the appliances, you don't buy any units from your supplier at the present rate of £0.12 for every Kwh consumed by your appliances and therefore you save on your electricity bill. You export to the grid the difference between your production and your consumption and you are also entitled to receive a further 4.5p from your energy supplier for each unit you export back to the electricity grid. If the solar panel generation is insufficient to feed the demand of your appliances, you just buy units from the grid.
This scheme is guaranteed for 20 years. All generation and export tariffs will be linked to the Retail Price Index (RPI) which ensures that each year they follow the rate of inflation.
Using the form is free and you'll get the results immediately on screen. After that, the results can be posted to you if you explicitly ask for it. You can use the form several times based on different inputs in order to choose the most suitable quote.
Make use of the help tips marked

as you fill the form. Fields marked * are required.